High-speed, high-resolution, high-throughput spectrometer covering the entire 1650-5100 nm wavelength range
PI:        Scott T. Sanders, Assistant Professor, ssanders@engr.wisc.edu
Engine Research Center, Department of Mechanical Engineering, UW-Madison
3 August 2006
We have designed a spectrometer with the following unprecedented characteristics:
One spectrum collected every 670 µs (3 kHz spectral acquisition rate)
Spectral resolution = 0.25 cm-1 (= 0.29 nm at λ = 3375 nm)
Input extent = 5.6 mm2∙Sr (accepts light at ± 3º through a 25 mm aperture)

this extent enables high signal levels even for non-laser emission
example: if the spectrometer views a 1500 K blackbody, 500,000 counts per spectral resolution element per spectrum at the 3 kHz spectral acquisition rate are detected, resulting in a SNR > 10,000

Each collected spectrum spans 1650-5100 nm
Some tradeoffs are available among the above parameters, for example speed and spectral resolution can be traded according to the red line below up to 100 kHz spectral acquisition rate: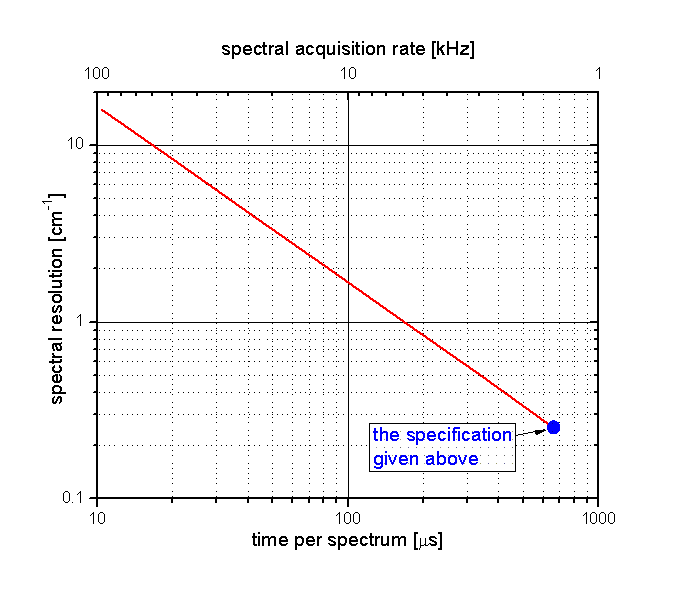 Selected applications:
Transient gas sensing (including fuels, H2O, CO, CO2, NH3, and many others: gases relevant to combustion, biological warfare, human safety, explosions, medical testing and diagnosis, atmospheric phenomena)
Video-rate ultraspectral imaging: using scanning mirrors or similar, a rastered scene can be delivered to the spectrometer so that each 'pixel' in the image is spectrally rich.
Video-rate species-resolved scene imaging by ultraspectral video processing.  Frames corresponding to a single instant of the anticipated video are shown below for several species.  In the true video case (not shown below), the motion of objects and gas clouds would also be tracked.
Species-specific video: for simplified viewing, a single species of the above sequence could be monitored in video format (e.g., to track the motion of clouds of a specific gas)
Mid-infrared biological imaging (e.g., optical coherence tomography or near-field microscopy)
Studies of material and spectroscopic properties under transient conditions (e.g., experiments involving explosions, shock waves, or pulsed magnetic fields)
Possible paths for developing this technology:
University development (funded by government and/or industry)
Approximate minimum budget for one unit:
| | |
| --- | --- |
| Parts | $200k |
| Design, construction, and testing | $80k |
| Total | $280k |
University and industry co-development (funded by industry and/or government)
Industry development, with input from University personnel (funded by industry)
For more information contact Prof. Sanders, ssanders@engr.wisc.edu
---
Return to CHyP Homepage